The Wedding Marquee for your Wedding Day

The wedding marquees we recommend are provided by http://www.eventus.ie/ and Byrne Marquees in Carlow and can accomodate wedding parties ranging from 60 to 120 guests. The marquees can be fitted out to suit your taste and budget, and can come with silk lining, windows, carpeted flooring, polished wooden dance floor and band staging.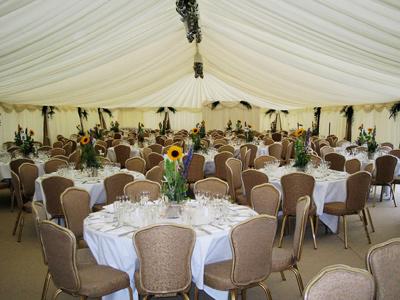 Further refinements can be added to the marquee including chandeliers, a sound system, floral decoration and much much more.
Catering your wedding at Croan

When it comes to food, the choice and timetable are yours to set. From a tasty buffet to a formal four-course dinner and drinks receptions to evening snacks, all can be provided for your guests to ensure that your big day is a memorable and enjoyable one for your guests.
One of the greatest advantages to choosing an outdoor wedding venus such as Croan is that you have complete control over the size and layout of your venue as well as complete control over the catering for your wedding dinner.
We would be happy to help you go through the options available for your wedding reception and are delighted to recommend Creative Catering Ltd., a local catering company who specialise in wedding catering. Their website, which shows sample menus and pricing is available here: wedding catering.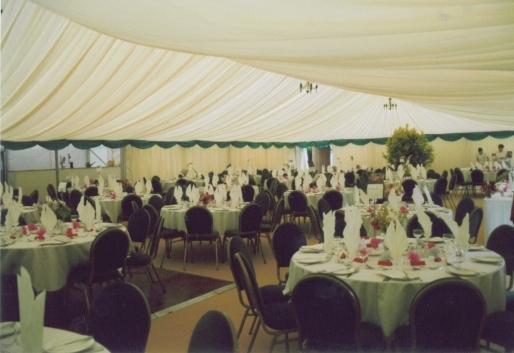 Wedding Catering and Bar
Using a privately owned Country House wedding venue such as Croan means that you can provide your own alcohol without a corkage charge and you can have the menu of your choice - anything from a formal banquet to a finger buffet.
The Cost for your Wedding at Croan House

This website is intended to give you a brief flacour of what it might be like to host your wedding at Croan House. To discuss your specific requirements and to work out a detailed costing, please get in touch with us.
Off-peak Weekend and Mid-week weddings
(April - June or September - October)
The cost to you for the exclusive use of the grounds of Croan House and Cottages (including accommodation for up to 26 people) will be € 8,000. Your Marquee, services, and furniture will cost from € 4,000 and catering costs are typically from € 40 per person.
The above prices include:
Exclusive use of the property for a weekend or mid-week period.
Marquee with flooring, silk lining and lighting.
High quality toilet facilities for guests
Electricity, waste and other services
Supervised car parking on your wedding day
Tables chairs, crockery, cutlery and linen.
Hire of security person on the night of the wedding

However, these prices are for illustration purposes only. Please contact us to discuss your exact requirements so that we may organise a truly special event to suit your budget.
For weddings outside of these dates, please call us to discuss.
Croan House and Cottages, Kilkenny.
If you are hoping to have a wedding in a stunning location and without the rigid formality of a Hotel wedding, then Croan may be the place for you. From a small intimite wedding to a marquee wedding with up to 120 guests we can accommodate your particular requirements.
Croan House and Cottages, Kilkenny, offers:

A stunning location for your marquee wedding for up to 120 people
An ideal setting for your wedding photos
A variety of Wedding planning and wedding co-ordination services
Beautiful gardens including a 200 year old walled kitchen garden.
Local caterers are available

Our Country House wedding venue at Croan can cater for many different types of wedding venues including:

dream wedding venues
unusual wedding venues
castle wedding venues
wedding reception venues
licenced wedding venues Ireland
civil ceremony wedding venues
winter wedding venues
outdoor wedding venues
civil marriage wedding venues
wedding venues in Kilkenny