Here at Croan, self catering cottages, we want to make your holiday as relaxing as possible and for many of you, that might include a break from cooking!
If you expect to arrive too late in the evening to arrange shopping or a restaurant booking, if you are planning a day's activities and would like to have your evening meal waiting for you on your return, or if you'd just rather have some delicious food prepared for you, just ask us. We offer a selection of dishes for lunch or dinner delivered to your door.
Each dish is available ready to heat or ready to serve. The choice available includes:

Beef Bourguignon
Fisherman's Pie
Beef Lasagne
Cottage Pie
Vegetarian Lasagne
The dishes cost €15 per person and are available in portions to suit 4 or 6.
To suit couples we can also prepare these dishes in a smaller portion for 2 for €30:
Pizzas
We can also prepare Pizzas for guests. These are 12 inch, thin crust pizzas which can be delivered piping how and ready to eat right to your cottage.
We prepare two varieties:
Meaty - with Ham and Pepperoni or
Vegetarian
Each Pizza costs just €10 and can be served with a salad or Garlic Bread (Medium €4, Large €10).


Side Orders
Seasonal Vegetable Selection
Tossed Green Salad
€3 per serving.
Rosemary Roast Potatoes
€5 per serving
Garlic Baguette
(Medium €5, Large €7)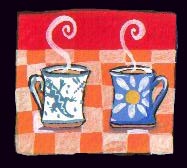 Desserts
- Seasonal Fruit Crumbles and Pies
- Fresh Fruit Salad
- Bread and Butter Pudding
The desserts are home made and are served in generous portions suitable for 4 (€25) or 6 (€35).
We also stock Ice Cream.
How to Order

Please give us at least 24 hours notice for any meal request. We prepare each dish to serve either 4 or 6. You can choose which size would suit your party best.
Lunches and Picnics

For lunches and picnics we offer a range of Quiches, Frittata, Pies, Salads and Sandwiches and sweet treats. Please ask us for details and prices.
Special Occasions

If any of your party are celebrating a birthday or other special event and you'd like to have a cake, we'll be happy to make one for you. Just let us know what you'd like and we'll do our best to arrange it.
Seasonal Specialities
We also offer some seasonal specialities you might like to try:

Rabbit Casserole or Pie
Duck Pie
Venison Pie
Pheasant Casserole or Pot Roast

These dishes are only available during the appropriate game season.