Sunday 30th November 2019
Course Description

Create a really special Christmas Dinner this year by learning some techniques and dishes during a fun, hands-on cookery day at Croan.

This practical one-day Christmas Cooking Class will give you the confidence and know-how to elevate the traditional Christmas dishes to something really special.

On the day we'll show you how to Brine the Turkey to enhance its flavour, how to wet-cure a piece of pork to make a unique Christmas ham, how to prepare a superb smoked glaze for the Ham and lots more.


Book your place now

Sunday 30th November


For the past 4 years, Google has used our detailed guide for searches for "Christmas Dinner Timetable". We must be doing something right!

The course has been designed to meet all levels of interest and experience. Our course numbers are kept small so you will have time to learn in a hands-on way.

Places on this course cost just €175 which includes all course materials, lunch and some goodies to take away.
One Day Christmas Cookery Class
With Christmas just around the corner, eliminate the panic and get a head start with brilliant tips and tricks from our team to make the big day as easy as possible and the dishes you bring to the table a great success!
This one day Christmas Cookery Class in Kilkenny will guide participants through preparing the best Christmas Dinner they've ever enjoyed.
We'll demystify "Brining" the Turkey, we'll wet-cure our own Ham and participants will get hands-on to prepare all the trimmings.
We'll also build a small smoker and Smoke some Trout for starters.
We'll even make some preserves which participants can make in advance and enjoy on the day or give as gifts.
The Class will start with tea, coffee and treats fresh from the kitchen and there'll be plenty of other treats to enjoy during the day.
A delicious lunch will be provided.
Course Details

Date: Sunday 30th November 2018
Time: 9:30am to 5pm
Price: Just €175 per person

- Includes: All equipment, notes, recipes, lunch & some goodies to bring home.

Some cottages are available for the weekend of the course. Bring your family along and enjoy a weekend in Kilkenny.

Accommodation Also Available!

One night accommodation options also available:

Twin Room Sharing €50
Double Room p/p €50
Single Room €50

What others have said about our Courses

What participants on our previous courses have said:

"It was a fabulous weekend guys. You must be very proud! You were great hosts and it was a joy to be in your company."
"What you are doing in Croan Cottages is absolutely wonderful & your recognition and support of other local artisan suppliers is commendable."
"Thank you so much for the wonderful weekend. I enjoyed it so much - the food, the location and the fun we had was beyond my expectation."

Gift Vouchers

Give the gift of 'an experience'.
Gift Vouchers are available for courses or holidays in any amount.
Read more.

Topics Covered on the Course
This course includes refreshments and lunch and all equipment and recipes are provided.
Developing a menu to suit everyone
Creating your Christmas Cooking Timetable
Things to do in advance
Brining the Turkey for maximum flavour
The best Turkey Stuffings!
How to cure your own Ham
A delicious sweet glaze for the Ham
All the trimmings!
Build a simple Smoker on your cooker to smoke your own Trout or Shellfish
Christmas Preserves and Food Gifts
Lots, lots more!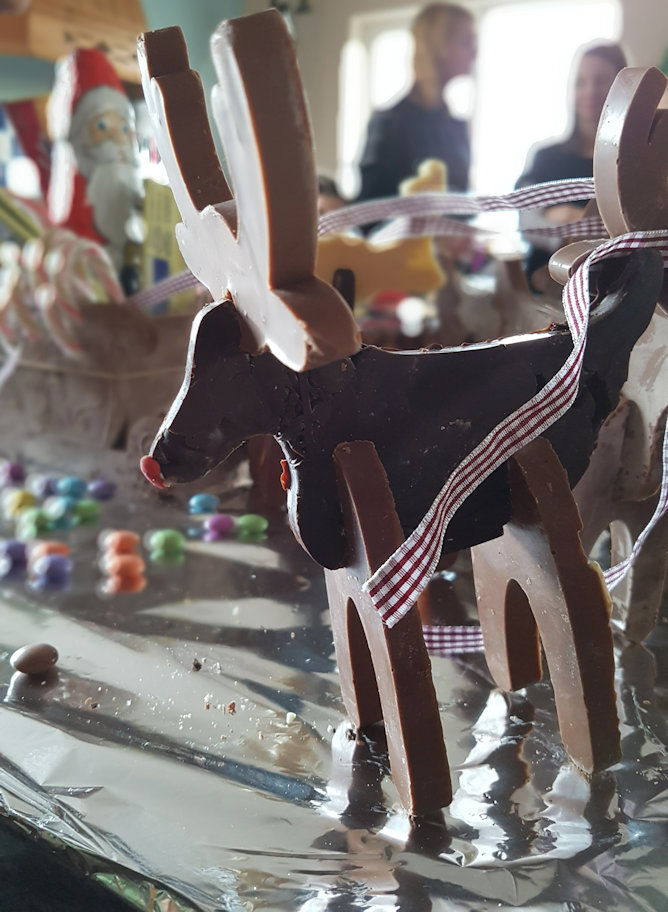 During your stay your host, Francis, will also introduce you to life at Croan. Together you will meet the animals and explore the Gardens.
"We all thought your course was great. Eating together and staying in the cottages with other participants made for a different and very congenial experience."
"I learnt lots every day and hope to put it all in to practice in the next few weeks."
"You really put all your heart and soul into organising and running the weekend."
Contact Details

Croan Cottages,
Dunnamaggin,
Co. Kilkenny

(Just 90 minutes from Dublin)

+353 (0)56 77 66 868
"We participated in a Weekend Cookery Course at Croan and enjoyed the best, fun weekend ever. We learned so much and feel we've made some friends for life. The food was great too!"
Christmas Cookery Class
Croan Cottages, Kilkenny, Ireland: Sunday 30th November 2019