If you are arranging a hen party in Kilkenny and are looking for some self catering accommodation for your hen party, get in touch with us.
At Croan Cottages we have 5 cottages in total, accommodating up to 26 people.
We have hosted numerous Hen groups in the past and the best fit is for a group of girls looking to get away for the weekend to catch up and have some fun with maybe 1 night staying in their cottage for dinner and then another night out on the tiles in Kilkenny.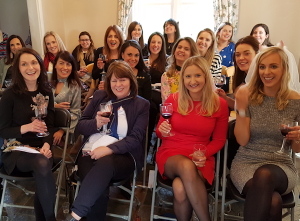 In between there is normally an activity to keep the hen party amused. We provide some activities ourselves:
A Cookery Demonstration or Class in your cottage (€10 pp),
Wine Tasting at Croan (€15 – €25 pp),
A Smallholding Experience -get your hands dirty with the animals (€10 – €15 pp),
Other activities which are popular can be held here or nearby. Please note these are provided by others and need to be arranged directly with the provider. There is no extra charge for hosting appropriate activities at Croan.
High Tea at Mount Juliet (4 Star Country House Hotel, just 10 minutes from Croan)
Pottery making (€15 p/p),
Life drawing (€10 p/p),
Dance Classes (€10 – €12 p/p),
Cocktail Making Masterclass in The Left Bank Kilkenny (€25 pp)
Go-Karting,
etc.
All of our self catering cottages have an open fire and private patio and we can provide meals for the hen party on one evening if it suits (quiet night in one of the nights to catch up with the girls?)
Croan Cottages are just 10 minutes from Thomastown and 15 minutes from Kilkenny city. We have a number of local taxi companies who run guests in and out of town (Euro 35 for up to 7 people each way).
So if you are planning a civilised Hen party in Kilkenny, get in touch to check availability and rates and to see how we can help you organise a weekend that everyone will remember.