The Savour Kilkenny Smallholder Gathering 2016
In conjunction with @SmallholdersIRL & @SmallholdersUK and hosted by Croan Cottages
This year we are delighted to be working with Savour Kilkenny to host the inaugural Smallholders Gathering. This event aims to bring together people interested in the Smallholding life from all over Ireland and the UK.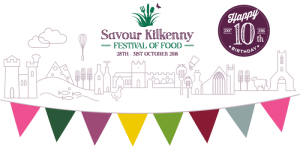 Over the Savour Kilkenny weekend at the end of October, there will be a number of workshops, demonstrations and discussions covering all aspects of living 'the Good Life'.
If you are considering a move to the country or dream of producing some of your own food, come along and hear from prominent Smallholders who have built up a wealth of knowledge the hard way – so you don't have to!
Virtually all of the Discussions, Demonstrations and Workshops are Free of Charge!
More details will be posted on the Savour Kilkenny website.
Saturday 29th October
| | | | |
| --- | --- | --- | --- |
| 11:00 – 1:00 | Workshop: DIY Herbs with Dee Sewell from Greenside Up | Workshop | FREE |
| 1:00 – 3:00 | Workshop: Foraging for Food Talk & Walk | Workshop | (€10) |
| 1:30 – 2:00 | Buttermaking Demonstration | Demonstration | FREE |
| 2:00 | Starting from scratch – a Smallholding case study | Banter | FREE |
| 2:30 | Starting with Poultry | Demonstration | FREE |
| 3:00 | Making the most of your Polytunnel | Banter | FREE |
| 3:30 | The buzz about Bees and Beekeeping | Demonstration | FREE |
| 4:00 | Animal Welfare & Legislation | Banter | FREE |
Sunday 30th October
| | | | |
| --- | --- | --- | --- |
| 11:00 – 1:00 | Workshop: Fermenting with Val's Kitchen | Workshop | FREE |
| 1:30 | Starting from scratch – a Smallholding case study | Banter | FREE |
| 2:00 | Starting out with Pigs | Demonstration | FREE |
| 2:30 | Direct selling for Smallholders | Banter | FREE |
| 3:00 | Keeping and caring for Sheep | Demonstration | FREE |
| 3:30 | Marketing & Selling your Produce Online  | Banter | FREE |
| 4:00 | Keeping and caring for Alpaca | Demonstration | FREE |