Shop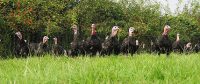 At Croan, we provide the best possible living conditions for all of our animals. We allow all of the animals to live in an environment that is suitable and which allows them to behave naturally.
For our Free Range Bronze Turkeys, this means roaming outside all day in the fields.
We feed the Turkeys a ration which provides all of the nutrition which they need to be healthy but we also provide them with fresh fruit and vegetables every day. The Turkeys love this and we feel it improves the flavour of the bird.
All of our Turkeys will be ready for Christmas and are sold oven-ready. The birds can be collected at Croan or we can deliver for an additional fee.
The cost of the Turkey, depends on their oven-ready weight. We will do our best to match the size you chose but please bear in mind that we raise a small flock and so the bird you receive may be slightly larger than ordered.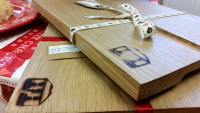 Hand crafted from Locally sourced Irish Oak, each board is unique and is made by Francis here at Croan.
These Oak Serving, Chopping or Cheese Boards are entirely Handmade and finished. Each is treated with 5 coats of food grade oil that give the wood an incredible finish.
If cared for, these Boards will last a lifetime.
While every board is different, each measures approximately (L) 38cm (H) 3.5cm (D) 29cm.
Each Board has finger grooves cut on the underside to make it easy to lift and carry.
The Croan House logo is heat-branded on to the Board.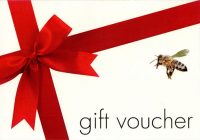 Croan Cottages gift vouchers make the perfect gift for family and friends, ideal for any occasion, from anniversaries, weddings and retirements to Christmas and birthdays.
Vouchers are available in multiples of €50 (50, 100, 150, etc.) so that you can choose the value of your gift. The lucky recipient can then treat themselves to a memorable holiday of their choice, from a relaxing weekend break to a fun summer holiday with all of the family.
To order a Croan Cottages voucher, you can call us on: +353 (0)56 776 6868 with your credit or debit card details or you can order online using the form below.
Please allow up to 1 week for the delivery of your gift vouchers.
Personalise your gift vouchers
If you would like us to print the recipient's name on the gift voucher, please let us know at the time of ordering. We can also mail the vouchers directly to the recipient with a gift card from you.
Buy your Gift Voucher Online Now
Please select the Gift Voucher Options below and then click the 'Buy Now' button. Payment can be made online using your Debit or Credit card. Your payment is securely handled by PayPal.