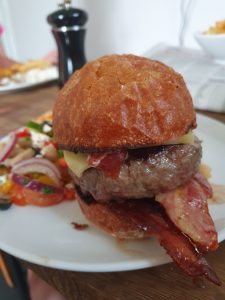 I like to make these in batches and freeze them. They freeze really well and it means there's always a supply of great burgers on hand when the weather cooperates and the BBQ can be lit.
Ingredients
500g minced beef
500g minced pork
4 slices of streaky bacon or 60g of chorizo or 60g of Lardons, chopped
1 large onion, finely chopped
1 garlic clove, minced
125g soft bread crumbs
1 large egg, lightly beaten
1 tablespoon dried parsley
1 teaspoon Garlic salt
1 teaspoon salt
1/2 teaspoon dried marjoram
1/4 teaspoon paprika
1/4 teaspoon pepper
or Mixed Herbs
75g of grated cheese (optional)
8 hamburger buns, split and toasted. Some people like Brioche, I like a nice crispy bun. Don't scrimp on the bun – it's an important part of the burger!
Accompaniments
Lettuce leaves, red onion, tomato slices, sliced pickles, crispy bacon and slices of good cheese, I like Gruyere.
Ketchup, Mayo, Ballymaloe Relish
Method
Fry the bacon, onion and garlic over medium heat until the bacon is crisp, drain and place in a small bowl.
You need a large mixing bowl or, even better, use 2.
Stir in the bread crumbs, egg, parsley, salt, marjoram, paprika and pepper.
Crumble the beef and pork over the mixture and mix well.
Take out a little of the mix and fry it. Taste it to be sure that the seasoning is right. Adjust as needed.
Shape into eight burgers,
Grill, uncovered, over medium-hot heat for 4-5 minutes on each side or until a thermometer reads 70°.
Serve on buns with the accompaniments.