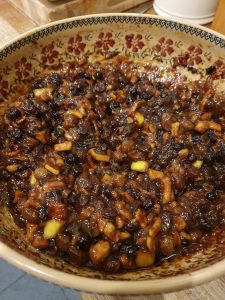 This is an easy but really tasty Mincemeat recipe. The mincemeat will last for ages if it's stored in sterilised jars with very little air in them.
You need to make this a couple of weeks before baking, so it matures a bit. Bear in mind too, that you will be mixing up everything the day before you jar it up.
When you are getting ready to jar, run 7 jam jars through the dishwasher to sterilise them (or sterilise clean jars in the oven at 150 degrees for 15 minutes).
I don't like a boozy mix, so you could increase the Brandy by another tablespoon or three if you like.
I also don't like candied peel – I really hate candied peel – so I don't include any. If you do like candied peel, you disgust me, but feel free to add 100g or 200g or the whole World's supply so I never have to hear about it again!
Ingredients
4 large cooking apples (500g). I used a mix from the orchard but Bramleys are perfect. Core them and chop them up into small pieces but don't bother peeling them.
1 350g bag of Raisins
1 350g bag of Sultanas
1 350g bag of Currants
350g of Dark Muscovado Sugar
1 box of Shredded Beef Suet (225g)
50 g of crushed Walnuts. I know, not very traditional, but it works. You can use chopped Almonds if you prefer.
4 tsp mixed spice
½ tsp teaspoon ground cinnamon
¼ tsp freshly grated Nutmeg or Mace or ground Nutmeg. I normally use a little mace and then some grated Nutmeg.
3 tablespoons brandy
The grated zest and juice 2 medium Oranges
The grated zest and juice 2 Lemons – wax free! Or be sure to wash them is hot water first.
Method
Get the chopped apples and lemon juice together as soon as possible to prevent the apples going brown and manky.
Mix these and everything else together in a very large bowl – except for the brandy. Be thorough with the mix so that the flavour is uniform.
Cover the bowl with a clean teacloth and leave the mixture in a cool place overnight. I'll often leave it longer as I'll mix one evening then jar the following one.
Cover the bowl with tinfoil and then put it into a cold oven and bring it up to 110°C. Leave it in there for 3 hours. Gradually bringin the bowl up to temperature means I'm not going to shock the Nicholas Mosse pottery bowl I use (the biggest I have).
Turn off the oven and let the bowl cool a little before taking it out. Then there won't be any nasty temperature shocks.
Stir up the mix which will be very loose.
Leave it to cool for a couple of hours, stirring it every 15 or 20 minutes so that the fat coats everything instead of congealing into lumps.
When the mincemeat is a little above room temperature, add the brandy and mix well.
Use a jam funnel (you really should get one of them) to fill the jam jars.
Rapid light taps of the jar on a wooden or plastic board are the best way to get the mix to sink and get the air out.
Pop the sterilised lids on while the mix is still warm and as it cools it will pull down the 'Safety Button' on the lid.
Label the jars – always label your jars. No, you won't remember what's in them and when you made it. Trust me.
Your jars of mincemeat will keep for ages in a cool, dark place.