Saturday 11th & Sunday 12th of September, 2021
€215, includes Lunch, notes, snacks and goodie bag.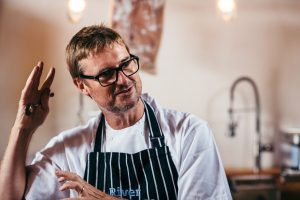 Quite simply, one of the best food tutors there is returns to Croan Cottages, from his usual haunt at River Cottage.
We are delighted to host Steven Lamb as he helps us explore the techniques originally used to save food, now used to enhance some of the finest flavours in it.
Most of these skills have been lost for all but the most dedicated fans of authentic preservation and flavouring techniques.
We want to share them with you!
When smoked or preserved food is appearing on the menus of every top restaurant, you know that there is something here worth learning. And our tutor, Steven Lamb part of the original River Cottage team, literally wrote the book!
Quite Simply, there is no one better to teach you Curing, Smoking, Brining and preservation techniques than Steven Lamb. The smoking and preserving expert from River Cottage, Steven is a presenter, teacher, charcuterie consultant and author of the best-selling "River Cottage Curing & Smoking Handbook" (winner the Fortnum & Masons Highly Commended Food Book award).
During this one day class, Steven and the team at Croan Cottages will teach you all you need to know to dry cure, brine, ferment, hot smoke and cold smoke your food to give it a depth of flavour like you have never experienced before.
Steven will give you the confidence and know-how to enhance those big holiday meals with dishes such as glazed ham, brined poultry, smoked fish and cured bacon. Of course, as with all of the Croan Cottages courses, there will be plenty of food and treats throughout the day! You will even leave with a goodie bag of smoked and cured treats.
If you wish to develop your cooking skills by introducing new techniques, tastes and textures into your food and cooking then learning smoking and preserving techniques at Croan Cottages is for you.
Some of the dishes well make (and taste) on the day:
Brined Turkey
Brined Ham
Coppa
Streaky belly bacon
Bresaola
Smoked Duck Breast
Chorizo
Sausages
Hot smoked Trout
This class will run on Saturday, 11th September and Sunday 12th September from 9.30 – 5pm each day.
The cost for the class is Euro 215 and includes lunch, snacks and a take home goodie bag. Accommodation options also available.
Would this make a good gift for a loved one? Gift Vouchers for courses are available.