The Thomastown 'Happy Valley' festival, takes place each June Bank Holiday weekend near the picturesque Kilkenny town of Thomastown – just 10 mintues from Croan Cottages.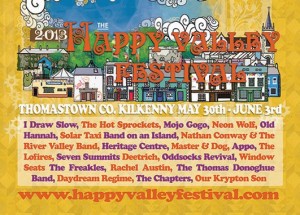 Thomastown lies on the beautiful banks of the river Nore and has a longstanding association with the arts. Home to Grennan Mill Craft School, Jerpoint Glass, The Berkley Gallery and many artists, craftspeople and musicians the town has become legendary for its vibrant music and arts scene. It is not uncommon to wander into any of Thomastowns bustling bars and happen upon some world-renowned musicians jamming in the corner on any given night.
In recent years Thomastown has hosted intimate gigs from the likes of Richie Havens, John Martyn, Shane McGowan, Sneaky Pete, Snow Patrol, The Republic of Loose, De Dannan, Gareth Hudson, Lisa Hannigan, John Spillane, Damien Dempsey, The Alabama 3, Bell x1, Hothouse Flowers , Burrito Deluxe, Jerry Fish & The Mudbug Club, Declan O Rourke, Cathy Davey, Duke Special, Eugene Kelly (The Vaselines), Chris Pontius, Kerbdog, Engine Alley, and lots more.
The Happy Valley Festival is an opportunity to bring lots of musicians to the town at the same time. The Happy Valley Festival is a weeklong music & arts festival incorporating live gigs, exhibitions, markets, art and craft workshops and other events of interest for all the family. If you are thinking about attending the festival, get in touch to talk to us about our self catering cottages nearby. Our cottages are an excellent base for families or groups of friends hoping to see some of the Festival events including craft workshops, traditional craft demos, free wine-tasting classes, free life-coaching seminars, dance classes, yoga, photography competition, a pet show & more.
If you are looking for accommodation for the Happy Valley festival, check availability on our website here, or drop us a line.