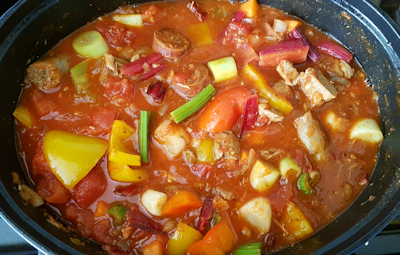 I love using up leftovers! Having put so much effort into cooking a meal, it would be criminal not to use up all of it – particularly the meat. When you grow and raise your own food, the need to use up every bit of it becomes even more intense.
This dish came about from having lots of leftover Roast Pork and some sausages that weren't needed at Breakfast. Add in some Chorizo, a can of tomatoes, some beans and a few bits and pieces and you have the makings of a delicious dinner.
The dish can be prepared in advance and just reheated when required. It freezes well too.
Best served with crusty bread for 'mopsies'.
Ingredients
A little rapeseed oil
1 large onion, finely chopped
5 sticks of celery, finely chopped
1 yellow pepper, chopped
1 red pepper, chopped
6 or 7 Chard stalks (optional, but I had them available and they add colour),chopped
3 fat garlic cloves, chopped
400g of cooked pork (or a couple of fried pork chops) sliced
300g Chorizo
1 Bay leaf
4 or 5 sage leaves, chopped
Handful of fresh thyme (or a tablespoon of dried)
6 pork sausages (about 350g)
1½ tsp smoked paprika
½ tsp ground cumin
125ml white wine
150ml of good Chicken stock
2 x 400g cans of chopped tomatoes
2 x 400g cans of butter beans or mixed beans (drain them and rinse well)
A big bunch of Basil
Method
Heat a little oil in a large heavy-based pan or casserole and fry sausages. If there is a high fat content in the sausages, forget the oil.
After about 5 minutes, add the onion, lower the heat and cook gently for another 5 minutes.
Add the celery, peppers and Chard and cook for another 3 or 4 minutes, stirring all the time now.
Stir in the sliced Pork, garlic, spices, salt and pepper and continue to cook for another couple of minutes. The smell at this point is gorgeous!
Turn up the heat and then pour in the wine. Scrape (or deglaze) the bottom of the pan.
When the wine has bubbled for a minute or so, add the tinned tomatoes, stock, and herbs.
Bring the mix to a boil then lower the heat to a simmer. Cook for about 40 minutes.(If you are getting the dish ready to serve later, let it cool now and do the 40 minutes cooking later).
5 minutes before you want to serve, stir the rinsed beans into the hot stew and let them heat up.
Season again with salt and pepper.
As you serve, try to dish out the Bay leaf.