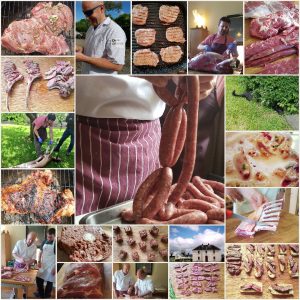 The weather was bright and clear and the participants eager to get stuck in when we gathered to learn from 2 very skilled butchers and teachers!
Declan Gilmore and John Griffin started the day with an introduction to the Butcher's tools of the trade and we learned about their care and safe use.
The lads also talked about the provenance of the animals to be butchered and how their diet and environment have an impact on the flavour and texture of their meat.
In the morning session, we covered the butchery of a Hogget (a sheep that is over a year old). This was a hands-on session with everyone having a go.
A delicious lunch was served in the garden and gave everyone a break before the afternoon session.
In the afternoon, we returned to the butcher's block and, as a group, we broke down a Deer into its primal cuts.
Some of the off-cuts of the venison were combined with Pork fat and minced allowing us to create Venison Burgers.
More of the Pork was minced and each participant created their own sausage recipe and linked some sausages.
Click on an image to start the slideshow.