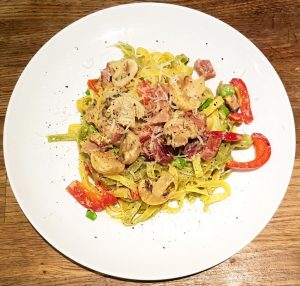 This is made extra creamy with the addition of yoghurt. I like it like this because I love to be able to mop the plate with a crusty piece of garlic bread or ciabatta. This is a great dinner to make is a hurry or to use up leftover ham.
SERVES 4
Ingredients:
• 340g of fettuccine per person (or linguine or spaghetti)
• 1 tsp olive oil
• 160g of Guanciale (or leftover ham), chopped per person
• 100ml of Natural or Greek style yoghurt
• 20g of finely grated parmesan cheese
• ½ tsp salt
• ½ tsp coarse black pepper
• 2 large eggs
Optional Ingredients
There's often veg in the garden or fridge which needs to be used up. This basic recipe is a great one to bulk out with this veg. The last time I made it I added:
• Half of a red pepper
• 1 dozen button mushrooms
• 3 Spring Onions
• 1 Bulb of Garlic
Directions:
1. Cook the pasta according to the directions on the packet.
2. While the pasta is cooking, warm a large bowl with boiling water. This will make it easier to mix the sauce ingredients.
3. Fry the Guanciale (or Ham) over a medium heat for 4 minutes then add any veg you are adding. Fry until the veg softens a little and until the meat just starts to brown. Remove the pan from the heat.
4. Just before the pasta is cooked add the yoghurt, parmesan cheese, salt and black pepper to the warmed bowl. Stir it and then whisk in the eggs.
5. Drain the cooked pasta and add to the sauce, stirring to coat it in the sauce.
6. Add the Bacon and veg mix and stir again.
7. Sprinkle some more parmesan over the carbonara to serve.
Tip: retain a little of the pasta cooking water. You can use this to loosen the sauce if it is too thick.