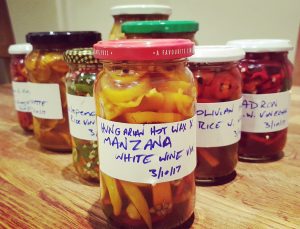 I love hot food and we grow plenty of Chillies at Croan. Unfortunately, this is not a crop which provides a steady supply throughout the year.
By the end of September the fruits are ripening and then at some point in October the vast bulk are ready for harvest.
While some plants (live Demon Red) will continue to fruit right up to December, when the main glut comes, we harvest and pickle!
This is very easy, you just need to be a little organised to have jars ready, ingredients in and some time set aside to do it. You can vary the types of spioces used in the pickle to suit your taste and even the choice of vinegar can be changed to your favourite. You should use a vinegar of 5% though, lower and it loses some of its preserving quality.
Ingredients
• 700g red, green, or yellow peppers
• 2 cloves of garlic
• 5-10 peppercorns per jar
• a sprig of oregano or thyme or 2 bay leaves per jar
• sticks of carrot or tiny onions – they aren't necessary but I like how they take on a hot. Pickled taste!
For the pickling liquid
• 750ml white vinegar, rice wine vinegar or cider vinegar (I prefer apple cider vinegar for mine)
• 4 tsp PDV Salt
• 2 table spoons white sugar
Method
Bring all of the pickling liquid ingredients to the boil. Boil for 3 minutes then turn off the heat.
Wash and slice the chilies. You can de-seed them if you like, I don't bother.
Add the peppercorns, carrot sticks, onions, oregano, thyme or Bay leaves in the bottom of each sterilised jar.
Fill the rest of the jar with Chillies, up to about 1cm from the top.
Pour the pickling liquid into the jars filling them almost to the top.
Seal and let cool for a few hours and then refrigerate. These will keep for about 4 months in the fridge.
To increase the shelf life, you can heat the full jars in boiling water for about 10 minutes to kill any bacteria that made it inside.