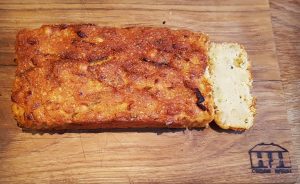 In early Autumn, we are blessed with an abundance in the Garden. No matter how hard you try to stay on top of the harvest of some crops, they soon arrive in glut quantities!
Courgettes are the worse offender! It seems that if you turn your back for a second, they swell to monster marrow size!
One great way to use up surplus is to pair the courgettes with a fruit which is also in abundance at this time of the year – the apple!
This recipe is based on one by Nigel Slater.
Ingredients
200g butter
200g caster sugar
2 free range eggs
1 medium-large courgette (about 150g)
1 eating apple
200g plain flour
a large pinch of salt
½ tsp baking powder
pinch cinnamon
60g hazelnuts
Method
Preheat the oven to 180C.
Butter and line the base of a 1lb loaf tin.
Cream the butter and sugar together until light and fluffy.
Beat the eggs and then mix them in to the sugar/butter.
Coarsely grate the courgette and squeeze it to remove any excess moisture. Grate the apple too.
Add the fruit and veg to the mixture.
Mix the flour, nuts, salt, baking powder and cinnamon and then gently fold into the mixture .
Transfer the mix to the lined loaf tin and bake for about an hour, or until golden and firm to the touch. You can test if the cake is done by piercing to the core with a knife. When you extract it, the nice should be almost dry.
Allow to cool in the tin before turning out.