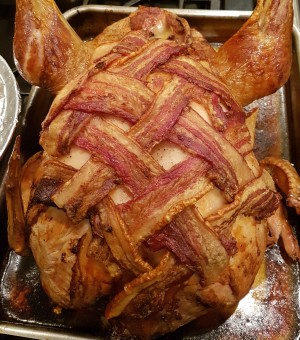 Every year we put a lot of careful planning into preparing our Christmas dinner. For us the easiest way to ensure that everything goes smoothly is to make some lists and a detailed timetable for the big day.
This year, we decided that we would add the timetable to the Blog in the hope that it might be of some use to others (and so that we don't have to start from scratch next year in preparing another Christmas Dinner Timetable:-)
This Christmas dinner timetable is for a traditional Christmas Dinner with a smoked trout starter. The times are based on the starter being served at 3:20 and the main course at 4pm.
The cooking times are for:
a 3.75kg Ham (adjust the boiling time based on 40 minutes per kg).
a 6kg Turkey (adjust the roasting time based on 40 minutes per kg)
Menu:
Smoked Trout with Chive and Shallot dressing to start
Turkey & Ham for main with:
Sausage meat stuffing
Breadcrumb stuffing
Mashed potatoes
Roast Potatoes
Brussels Sprouts
Carrots
Gravy
Preparation.
To make your life as easy as possible on Christmas day, try to get a lot of the food prepared beforehand. Even simple things like having the veg ready to go in small pots of water will save valuable time and will help keep the stress levels down.
This is what I do in advance:
Make sausagemeat stuffing mixture. This is easy as I just keep 1kg of the mix back when we are making herb sausages earlier in the year, then freeze it.
Make your bread stuffing mixture. Fry the onions in a chunk of butter then stir in breadcrumbs with as many fresh herbs as you like – parsley is a must. Grate the rind of a lemon in as well if you're a lemon lover. Salt and pepper to taste.
Soak the Ham for 24 hours in cold water.
Make up the glaze for the ham to your favourite recipe. There are lots, my favourite involves whiskey, brown sugar and honey.
Peel wash the Brussels Sprouts and leave overnight in a pot of water.
Peel and slice the carrots (into sticks) and leave covered in cold water.
Peel the spuds for roasting and leave covered in a pot of water.
Peel the spuds for steaming (or boiling) and leave covered in a pot of water.
Smoke the fish (or buy it smoked).
For the Trout dressing, make a vinaigrette with finely chopped chive and shallots. Jarred, this will last a couple of days.
Make a pint of Chicken (or turkey) stock for the gravy.
Christmas Day Timetable!
Take the Turkey out of the fridge first thing on Christmas morning
| | |
| --- | --- |
| 11:30 | Turn the oven on at 220 degrees |
| | Stuff the Turkey neck with the sausage meat stuffing. Put 2 or 3 tennis ball shapes of the stuffing into the main cavity of the bird too. You want the stuffing to add flavour but not to interfere with the bird cooking from the inside too. |
| | Shove some butter between the skin and flesh of the turkey breast, pop some whole garlic cloves into the cavity of the bird and season the breast skin with salt and pepper. Cover the breast with streaky bacon rashers. |
| | Put the Turkey into a large oven dish and cover with extra-wide foil. |
| 11:50 | Put the Turkey into the hot oven. |
| 12:00 | Cover the ham in cold water and put it on the largest cooker ring to bring to the boil. |
| | When the ham boils turn the heat down to simmer and top up the water during the cooking if required. |
| 12:30 | Turn down the Turkey oven temperature to 170 degrees. |
| 1:10 | Taste the water that you are cooking the Ham in. If it is very salty, then you will need to change it. Replace it with Boiling water from the kettle and put the Ham back on to simmer. |
| 2:30 | The Ham should be cooked. Take it out of the water and leave it on a board or large plate to cool a little. |
| | Preheat another oven to 180 degrees for the ham (if it won't fit into the oven with the Turkey). |
| 2:45 | Take the skin off the ham, leaving plenty of fat in place. Score the fat in a diamond pattern (try not to go through to the flesh) then glaze the ham and stick a dozen cloves into the diamond pattern. |
| 2:50 | Take the foil off the Turkey and turn the temperature up to 200 degrees. |
| | If you haven't done so already, get someone to set the dinner table! |
| 3:00 | Put the Ham into the oven. |
| | Preheat a skillet pan for the Trout. |
| 3:10 | Cover the potatoes that are to be roasted with water and put on to the heat. Bring the water to the boil then parboil the spuds for 4 minutes. When you drain the spuds, shake them about a bit in the pot with the lid on to break up the outer layer a little. |
| | Heat the fish for 2 minutes per side on the hot skillet. |
| 3:20 | Put the spuds into a little hot oil or Goose fat in a large oven dish. Coat each of the spuds in the fat and then put the tray into the lower part of the Ham oven (at 180 degrees). |
| | Serve your starter and enjoy a glass of something nice. It starts to get |
| 3:30 | Take the Turkey out of the oven. |
| | Put the 2 stuffing mixtures into the oven in suitable dishes at 170 degrees. |
| | Steam or boil your spuds for mash. |
| | Pour the fat from the Turkey dish into a jug or bowl and then deglaze the oven dish with a large glass of white wine. Add the chicken stock and leave the pan on a gentle heat to reduce stirring frequently |
| 3:40 | Cover the Brussels Sprouts in boiling water and put on the heat. |
| | Toss the roast potatoes in the oven. |
| 3:45 | Just cover the carrots with cold water and put on to boil. |
| | Take the Ham out of the Oven. |
| 3:50 | Carve the Turkey & Ham. |
| 3:55 | Drain the veg when they are cooked. |
| | Remove the stuffings and roast potatoes from the oven. |
| | Plate up. |
| 4:00 | Enjoy your Christmas Dinner! |