Saturday 4th September, 2021
Open to everyone interested in keeping honey bees, this one day Beekeeping Course is intended for beginners or for existing members to update their beekeeping skills.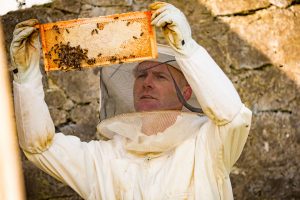 Who should attend:
The Beginners Beekeeping Course is ideal for those who have had some previous experience with keeping bees and for those with no previous experience whatsoever.
When is the Course on?
This one day course runs on Saturday 4th  September 2021 from 9.30 – 5pm.
Cost
The cost for the Introduction to Beekeeping Course is €165 and includes lunch and refreshments throughout the day.
The Beginners Beekeeping Course will cover:
The Honey Bee Colony
The Life of the Honey Bee
The Bee Hive and Equipment
Hygiene and Disease
Swarm Control
Harvesting the Crop
Places are limited, will be filled on a first come, first served basis and should be booked in advance.
Gift vouchers are available.