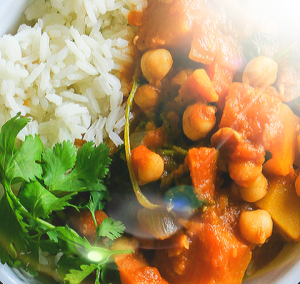 Pumpkins are a great plant to grow in the garden as they look good and cover a lot of ground. it can be hard to know how many individual plants to grow as they can be a bit temperamental and, after planting, they can sulk for a bit so it looks like you might not have any harvest at all.
This year our 5 plants produced some bumper Atlantic Giants for carving and some more traditional sized fruits for storing & cooking.
The recipe below I prepared for Dinner & a Movie in the Bridgebrook in Thomastown and it was very popular. When the serving was finished, I chucked in all of the rest of the ingredients that I had left over and by the time I got home, the second batch of stew was almost ready!
It has become the go-to recipe at Croan for using up the Pumpkin Glut at the end of October.
Serves 4 – 6.
Ingredients
2 tablespoons Rapeseed oil
1 Large onion, diced
4 large cloves garlic, minced
1 inch of ginger root, finely sliced or grated
2 teaspoons cumin powder
2 teaspoons coriander powder
1 cinnamon stick
A pinch of red pepper flakes – adjust the amount depending on how hot you like your food and how potent your chili flakes are
2 large carrots, sliced
1 large sweet potato, cut into 1 inch cubes
1 small pumpkin (Supermarket Halloween size), cut into 1 inch cubes
1 can of chopped tomatoes
2 cans of Chickpeas, drained and rinsed
750ml of good Vegetable Stock
Salt & fresh cracked pepper, to taste
A few large handfuls of Kale, Chard or Spinach, chopped (I use red Swiss Chard leaves & stalks, they look great in it)
Sour cream, Lime wedges and Coriander leaf to serve
Method
Most of the work is in the preparation of the root vegetables.
Slice your pumpkin in half, then in quarters with a sharp knife. Remove the seeds and soft pulp with a large spoon. You can wash the seeds and roast them in the oven as a lovely snack.
I cut the pumpkin pieces in half again to make them easier to handle while slicing off the skin with the sharp knife. off from top to bottom. Cube the cleaned pumpkin flesh into 1 inch chunks.
In a large pot, heat the oil and gently sweat the onions until they turn translucent. If the pot is very dry at this stage add a little more oil and then add the garlic, ginger and spices. Cook these for another minute or so.
Now add the carrot, sweet potato, pumpkin, tomatoes, chickpeas, stock, a generous pinch of salt and some pepper. Give it all a good stir and then put the lid on to make it easier to bring to the boil.
Reduce the heat and simmer for 30 – 40 minutes. Check the pumpkin and sweet potato toward the end. They are ready when they can easily be skewered on a fork.
If you are using the Chard stalks, add these and let them cook for 3 – 5 minutes before adding the green. These just need to be wilted which will only take another 3 or 4 minutes.
Taste for seasoning adding salt, pepper or some more chili flakes.
I served this with rice, a dollop of sour cream, a sprinkle of coriander leaves and a slice of lime. It would also work really well with just a naan bread.
Leftovers will keep in the fridge for a couple of days or blend them into soup (adding more stock or water as required) and freeze.