Centuries of Fly Fishermen can't be wrong!
For me, although I had been fishing for sea and 'coarse' freshwater species for many years, the moment I cast a fly line, I knew I was hooked for life. That was before a fly had even been tied on to the line!
While the obvious objective of all fishing is to catch a fish, this end goal is somehow less important when casting a fly. Fly fishing is more about the overall activity with a greater sense of the aesthetic. The delicate equipment, the graceful techniques involved, the organic action of rod and line and the fluid flow of the cast all come together to create a wonderful experience.
For me at least, what's important is not catching fish every time, but instead enjoying some time away from an otherwise busy schedule and the goal of making a perfect cast.
If you would like to try Fly Fishing to see if you will be bitten by the bug, join us at Croan Cottages for a Fly Fishing Experience weekend.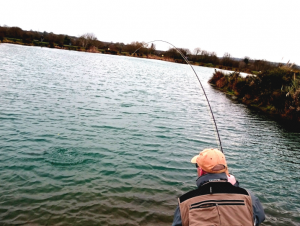 Weekend Fly Fishing Courses
Our Fly Fishing Experience Weekends are held in late Spring and early Autumn each year.
During our courses, we will cover:
Safety,
Knots,
Casting techniques,
Fishing methods and approaches,
Equipment,

what is required,
rod types for river & lake,
reels,
lines
flies

Choice of fly, time of the year, 'matching the hatch',
How to put a rod, reel and line together and attach a fly,
The principles of casting.
Each of our Fly Fishing courses is based at Croan Cottages. We'll cover the theory at Croan and will perfect your cast on the lawn before we move to lake or river.
When it comes to tackling the fish, we'll take you to two of Ireland's most beautiful Wild Brown Trout Rivers, the River Nore and The King's River. We will also fish on the Lakes at the stunning Mount Juliet estate.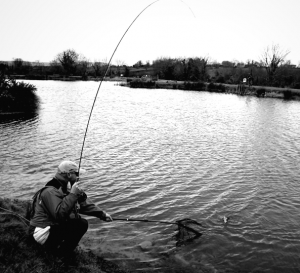 Residential Fly Fishing Courses
Our Fly fishing courses are offered on a Full Board basis and inclue 2 nights accommodation at Croan Cottages.
Our Fly Fishing Experience Courses will get you started in Fly Fishing or will help you improve your skills.
While on the water we will cover:
How to choose a fly,
Where to find fish,
Fly selection / Entomology,
Invertebrates identification & lifecycle,
Fish welfare,
How to retrieve a fly for maximum effect,
How to land and unhook a fish.
For those who want to enjoy their catch, we'll also prepare the fish to eat when we get back to Croan.
Bespoke Fly Fishing Courses
At Croan Cottages we also offer bespoke fly fishing courses for individuals or groups, tailored to your exact requirements.
Our full day or two day courses are designed to introduce new comers to the sport or to help develop the skills of anglers and help boost their confidence.
If you wish to arrange a course for yourself or a group of friends or colleagues, please get in touch.
Equipment required for our Fly Fishing Courses
All you need to bring along to our Residential Fly Fishing Courses is:
1. Suitable clothing
2. Suitable footwear
3. Eye protection (Essential)
If you have Fly Fishing equipment, bring it along too so that you can practice with your own rod. If you don't have a rod, don't worry, we can provide one for you.