More New Arrivals
Eunice, our black-faced ewe, gave birth to twin lambs who are enjoying learning to eat the lush green grass, though they're driving the goats mad by getting underfoot.
Eugenie, our second ewe had a single Ram lamb just a week ago and he's trying to keep up with his older cousins!
Bo the cow is expecting a calf in early July. As usual, the naming rights for the calf will go to some of our younger guests when she arrives.
This year's first batch of newly hatched chicks are growing well and have been integrated into the flock in the henhouse. Penelope the peahen is still nesting (right outside one of the cottages!). Any day now, we hope to have a brand new clutch of pea fowl to admire.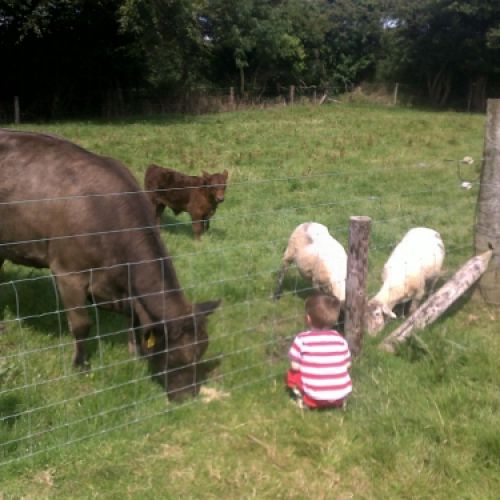 A Champion Tree
Though some of the more exotic shrubs in the gardens didn't survive the freezing winter temperatures, our venerable old trees remain tall and proud. Indeed, we were recently visited by the Tree Council of Ireland to record some of the more impressive specimens.
The avenue of Lime trees at Croan has been recorded as 'of special merit' and the native cherry (prunus avium) on the driveway has been awarded champion tree status as one of the oldest and tallest of its type in the country!
Garden Planting and Produce
The annual planting of the gardens is well underway, with tomatoes, lettuce and courgettes in the greenhouse, potatoes and root vegetables in the raised beds and rhubarb flourishing in the walled garden.
This time of year is always so full of promise, and we're looking forward to a healthy crop of fruit and vegetables to share over the Summer months.
Already there are more Strawberries than we and our guests can eat!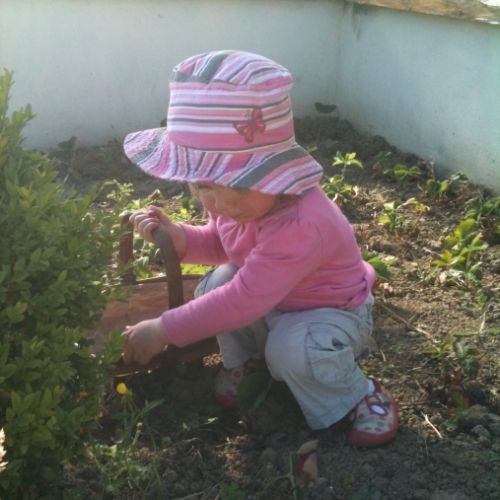 Restoring Hedgerows and New Tree Planting
As part of our planting maintenance, we're continuing our hedgerow renewal project, with hawthorn, whitethorn and blackthorn plants to encourage wildlife along with laurel, beech and lilac for texture and colour.
We've also committed to helping our guests offset the carbon footprint of their trip to Croan by planting a native, hardwood sapling in our new woodland garden. Did you know that by planting a hardwood tree you can offset 5% of the carbon emissions from a 2 Litre car for the lifetime of the Tree? This year alone we have planted 200 hardwood saplings, talk to us about putting your name on one of them!
Continuing our efforts to live more sustainably and provide responsible tourism options for our guests, we've begun the initial stages of examining wind power as a realistic energy possibility for Croan. Our anemometer is up and recording wind speeds and directions to enable us to plan for future energy provision. Ideally we would hope to erect our own turbine in the Summer of next year.
New Look Website and Blog
Francis and our friend Jackie have developed a new layout for our website. There are seasonal themes which we can now apply to the site and we will be adding more seasonal recipes in our new Blog over the coming year. Visit the site to take a look and to let us know what you think!
While you are there you can also sign the
Visitor Book
or upload some photos which you took on Holiday for our
Gallery Page
.
If you are on Facebook, why not 'Like' the Croan Cottages page? Some of our friends have uploaded images and videos which they made while on holiday there.
Some Seasonal Recipes
Niamh has come up with a couple of recipes for delicious ways to deal with our current glut of Strawberries and Rhubarb.
Next up it looks like we'll be dealing with the Red Gooseberries!
Discounts for returning guests
We are continuing our discount programme for returning guests this year. If you or your friends would like to stay in one of our cottages, please get in touch to arrange your 10% discount.
Simply mention that you stayed with us in the past and we will apply the discount at the time of booking.
Self Catering Holidays – Special Offers
We have very limited availability for Summer 2009 in our Self Catering Cottages in Kilkenny. The few cottage stays that are remaining are being offered at greatly reduced prices – for a limited time!
Special Offers include:
1 week in July or August from just 395 Euro!
Book Online
Thanks for reading and have a great summer,