We love wild food. There's something very exciting about walking into a wood or along a hedgerow, identifying edible plants and picking them for free!
Some wild foods though, while edible, fit squarely into the 'why would you bother' bracket.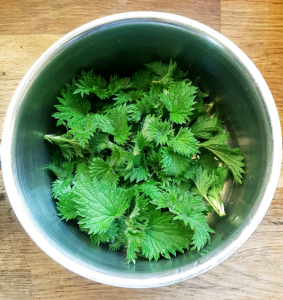 Nettles and Wild Garlic (Ramsons) are different. These plants are good for you and can be used to produce genuinely delicious dishes!
This is one of our favourites and it's very easy. Make this pesto as soon as you can after picking the plants.
The measurements below can be scaled up or down. The quantities I have listed will make enough pesto for a pasta dish for 4 as well as some for a Bruscheta starter. Consider the quantities to be a guide – you can adjust to vary how oily, liquid, garlicy you like it.
It will keep for a couple of weeks in a jar in the fridge.
Ingredients
100g young nettles. Use the nettle plants while they are smaller than 9 inches. Once the plant has gotten bigger than that the leaves get a bit tough. Use gloves to harvest the leaves and give them a good shake to remove any passengers and give them a wash before cooking.
100g of wild garlic leaves.
50g Parmesan, finely grated
The zest of ½ a lemon and a little juice
50g of toasted pine nuts or walnuts
100ml Extra Virgin Olive Oil or the best Rapeseed Oil that you can get your hands on
Sea Salt and Black Pepper
Method
Pour some boiling water in a large pot and drop in the nettles. They only need to cook for 90 seconds or at most 2 minutes.
Drain the nettles in a sieve and immediately immerse them in cold water (preferably iced) to cool them down.
When they are cool, squeeze out the excess water but don't squeeze out all of the nutritious juices.
Chop the Nettles and Garlic as finely as you can or blitz them in a food processor.
Add the Parmesan, lemon zest and nuts. Crush all of the ingredients in a mortar and pestle or blitz them to a rough paste in the food processor.
Season as you process them with Sea Salt and Fresh Black Pepper.
Slowly add the oil and mix until you achieve the consistency that you like.
Taste, season add some lemon juice, taste again and repeat until you're happy with the taste.
Use straight away or store it in a sealed clean jar in the fridge.