Sometimes the best recipes are developed from necessity. In this case, I had a lot of sausages that really needed to be used up soon.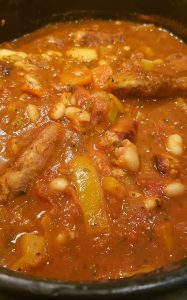 Mid-week, there tends not to be time for cooked breakfasts and I needed an evening meal. The result? A Mediterranean style stew but with herby sausages.
The other ingredients are store cupboard staples here and this really is an adaptable recipe. Don't worry if you are missing one or two of the ingredients listed below or have some extras that you would like to add.
Ingredients
1 tbsp Oil
8 good Herby Sausages
1 small cooking Chorizo sausage, sliced (optional)
1 large Onion, diced
1 Carrot, sliced
2 sticks of Celery, sliced
1 Red or Yellow Pepper, sliced
2 cloves of Garlic, chopped
1 glass of Red Wine (optional)
Bunch of Rosemary, thyme and Parsley or 1 tsp dried mixed herbs
1 x 400g tin Butter Beans, rinsed and drained
1 x 400g tin Cannellini beans, rinsed and drained
2 400g tin Chopped Tomatoes
1 tbsp of Tomato Puree
500ml Chicken Stock
1 tsp Smoked Turmeric
Salt and freshly ground Black Pepper
Method
Heat the oil in a casserole or large frying pan over a medium heat. Once hot, add the sausages and cook for 6-8 minutes, turning now and again to colour them evenly.
Remove the sausages from the dish and set to one side.
Add the carrot and onion and cook for three minutes, then add the chorizo, celery, pepper and garlic and cook for two more minutes, stirring from time to time.
Return the sausages to the pan and add the glass of red wine, if you are using it. Stir to allow the red wine clean the bottom of the pan.
After a couple of minutes of stirring, add the butter beans, tomatoes, tomato puree and chicken stock to the pan. Stir to mix everything together.
Add the herbs to the mix and season well with salt and pepper.
When the stew has come to a rolling boil, lower the heat and simmer for 20 minutes.
Serve with crusty bread or Ciabatta (and the rest of the Red Wine).