It's been a long time coming, but this summer has been superb so far. With everyone from Weather astrologers to Postmen in Donegal predicting the good weather to continue, we are hoping for lots more sunshine!
Earlier in the season, we spent weeks tending plants in the greenhouse until we could be sure that the last of the frosts had passed. That was followed by weekends hardening off and planting out a huge range of vegetables in the walled garden to keep us and our guests supplied right through till late Autumn.
Now the work consists mostly of watering the plants to keep them alive (and a little weeding). The Potatoes are well up and have flowered, we've even harvested a few plants to give some early spuds.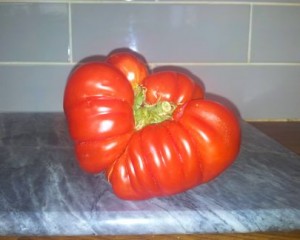 Probably the ugliest Tomato that we have ever grown – but it tasted wonderful! The variety is called Marmande.
The Onions that we were careful to protect from birds as seedlings are doing well. Courgettes, squash and peas are well under way and have all given their first crop. Tomatoes and cucumbers in the greenhouse have put out their beautiful bright flowers and we are already struggling to use up the stocks they provide! The rhubarb loved the cooler weather earlier in the year and is thriving now.
The prospect of a bumper harvest from the gardens is also an ideal opportunity to clear out the last of our stored fruit from the freezer so we've been topping up our dwindling supplies of jam. Our favourite is a mixed berry, soft set jam that uses up all those fruity odds and ends. Another favourite, rhubarb and vanilla, makes maximum use of our already plentiful crop and tastes amazing on fresh baked brown bread.
Also in the gardens, we've started on a long term project of complementing our forty shades of green with a wider range of colour. We've added Campanulas to our old limestone walls and a variety of alpines to various nooks and crannies around the grounds to add drama and vibrancy to our surroundings. We've increased the range and number of lavenders and herbs around the Boules court for colour, scent and above all, flavour.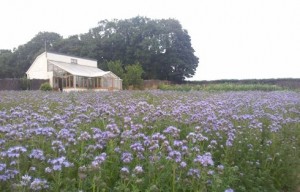 The bees LOVE the Phacelia which we plant each year in one of the beds as a rest crop and green manure. We love the colour of the flowers. In this photo, you can just see the veg bed in the background, to the right of the greenhouse.
Not only have we been busy in the gardens, our animal stock is also expanding. A few weeks ago we welcomed our newest Angus heifer calf as company for one year old Boann. Eunice the Ewe and her lambs are doing fine, as are our three orphans who grow cheekier by the day. At least they've grown enough now that they can't fit under the gates and help themselves to our newly planted Alpines so easily! Sandy and Ginger the Oxford Sandy & Black piglets are among our favourite breeds ever to take up residence here. They have such a lovely nature and seem to be less inclined to bully one another than some of their predecessors.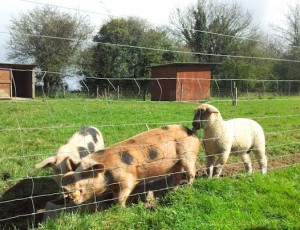 One of Eunice's lambs decided he liked hanging out with the piglets more than the other sheep and every morning we would find him in their paddock.
It is with great sadness that we report the death of Pierre, our fabulous peacock. As an elderly avian gentleman, the last big storm of Spring took its toll and he didn't make it through. We miss his colour, his distinctive call and above all, his fabulousness and are looking into sourcing a replacement, perhaps this time with a new peahen.
Not only is this a busy time for us in the gardens and fields, it's a time of great activity and innovation in Kilkenny. Thomastown has recently won a huge competition to become a designated 'Town of Food' building upon the fantastic quality of local produce available in the area. Six local restaurants are in the running for All-Ireland silverware in the Santa Rita/Life Magazine Irish Restaurant Awards. We truly are spoiled for choice when it comes to quality food her in the South East.
We're pleased to announce the opening of the latest section of the Kilkenny to Inistioge walks along the banks of the River Nore. It's a 10km stretch of moderate difficulty, beginning in Thomastown (or continuing from Bennettsbridge if you're feeling more ambitious), through fields, banks and woodland, arriving in the picturesque village on Inistioge, with a couple of lovely picnic spots along the way.
We've already enjoyed some great local festivals such as the internationally renowned Cat Laughs comedy Festival, the Thomastown, Happy Valley Music Festival and the Inistioge Summer Festival. Later in the summer, there will be Abhainn Ri Festival in Callan, The Kilkenny Arts Festival (celebrating its 40th anniversary), a design festival, more music and of course, our favourite Kilkenny Festival of Food, Savour Kilkenny (October Bank Holiday weekend).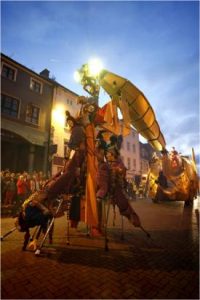 Kilkenny Arts Festival is always a fantastic event and this year there will be an outdoor performance of The Taming of The Shrew in the Castle Coach yard – now the Design Centre.
There are a few new events that we're looking forward to, including  a brand new fashion festival in early October, The Rockfall Music festival in late October and the intriguingly titled Thrillkenny Zombiefest at Hallowe'en. In November, Kilkenomics returns to the Marble City featuring a host of internationally renowned economists and comedians, followed by the Subtitle Film Festival.