At Croan Cottages we are committed to providing high quality self catering accommodation whilst also minimising the environmental impact of all our activities. We encourage our guests to help us in providing eco-friendly holiday accommodation through their actions while staying with us.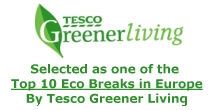 Eco Tourism
To contribute positively to our environment we take the following actions:
The electricity used at Croan is generated from wind and other renewable sources.
Low energy CFL lighting is fitted where possible.
Timers are fitted to all outdoor lighting.
We have a policy of replacing broken or worn-out appliances with energy efficient models
Glass, cans, plastic bottles, paper, cardboard etc. are collected for recycling.
Appropriate kitchen waste can be composted.
Ecological detergents and cleaning products are used in all cottages.
Wherever possible, local, fair trade, GM free and organic products are used.
Each cottage is thoroughly insulated.
Recycled paper is used in all of our stationery as well as for toilet tissues.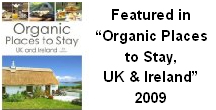 Guests can assist us implement our eco policy by:
Turning off lights and appliances when not in use to minimise energy usage.
Turning down room heating if the cottage is too hot or if you will be away from the cottage to minimise heating oil usage.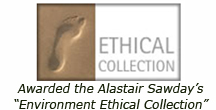 Outside of the cottages our attempts to be environmentally responsible continue.
We compost all kitchen vegetable waste and non-woody garden waste i.e. all weeds, 'soft' cuttings, lawn cuttings, etc.
We have almost 48 cubic meters of composting capacity which is a lot but is appropriate for the size of the grounds and amount of waste vegetable matter produced.
Their size and construction allows adequate heat build up in the compost heaps to destroy weeds and their seeds - therefore reducing the need for organic herbicides. Soil is added to form good compost. This is then spread on the garden and vegetable patch and some is riddled to produce fine potting compost. This way the nutrients are returned to the ground.
We don't use horticultural peat products - the use of peat by Irish and British gardeners has resulted in the destruction of a number of bog habitats in Ireland.
Wood Ash from the cottage fires and our wood burning stove is used on the garden as a potassium fertilizer.
We have planted Fruit Trees, native deciduous hedging and other standard trees on the grounds. Existing Hedgerows are being managed and replanted to ensure they continue to provide important habitat for flora and fauna.
Rain water is collected in the pond at Croan and is reused on the grounds for watering plants and veg.
No insecticides or pesticides are used in the Walled vegetable garden or orchard.
Suggestions on how we can improve our environmental performance are most welcome.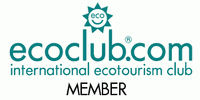 Croan Cottages is a member of the International Ecotourism Club.