It doesn't often happen that we have left over wine, but if the situation arises, a Red Wine Cake is a great way to use up any that's past its drinking best.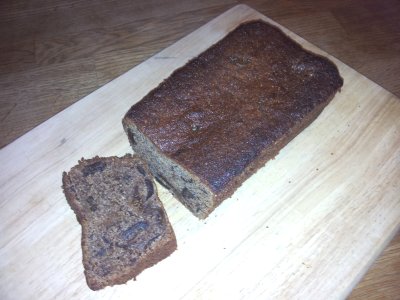 How to make it
Add 350 g of dried fruit (we used figs and dates) to 350 ml of red wine and bring to the boil.
Turn off the heat and leave the fruit to absorb the wine for about 5 minutes.
Add 200g of Honey or golden syrup and 120g butter to the pan and leave them to melt in for 10 minutes.
Stir a beaten egg into the mix.
Sieve in 200g of self raising flour along with 1 tsp cinnamon and a small grating of nutmeg .
Mix well and pour into a lined 2 lb loaf tin.
Bake for 40 minutes at 180 degrees (centigrade) or until a skewer comes clean out of the cake.
Cool in the tin, remove and slice.
Red wine cake is delicious served warm with whipped cream. We had some friends staying in one of our holiday homes when we last made this, and they seemed to agree!