This year has produced a bumper crop of apples, not just at Croan but for everyone it seems. The pigs have received bags of windfalls from friends and neighbours and we have been experimenting with lots of new recipes to try to use up our harvest.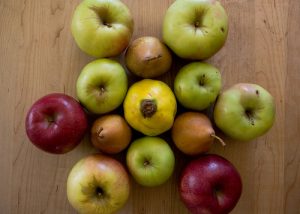 Last year, we also planted some Quince trees. They haven't produced any fruit as yet, but we were lucky enough to get some from the beautiful Coolmore estate near Inistioge. There, Roger and the head-gardener are restoring the walled gardens and unearthed some very old Quince and Pear trees.
A recipe which uses all of these fruit is below. It works a treat with any varieties of Pear or Apple – just adjust the sugar content accordingly.
Ingredients:
3 dessert apples (we used Honeyball and Kilkenny Permain)
3 pears
3 Quince.
1 shortcrust tart shell
4oz plain flour
3 oz cold butter, diced
2 oz Demerara sugar (or sweeten to taste)
Method:
Peel and dice the quince. Combine 100g sugar, juice of half a lemon and enough water to cover. Poach until tender, drain and cool.
Fill the tart shell with the diced apple, pear and quince.
Rub the butter into the flour until the mixture resembles fine breadcrumbs. Stir in the sugar and spread over the fruit.
Bake at 180 for about about 35 minutes.
We served this warm with some ice-cream and it was delicious!