The full schedule of events for the Kilkenny Tradfest festival has been released and it is packed full of great music and arts events throughout Kilkenny.
Thankfully there are lots of free traditional music events throughout the city.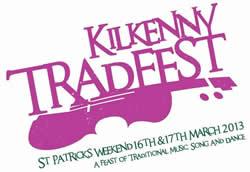 Croan Cottages are just 15 minutes from Kilkenny and make an excellent base for families or groups of friends enjoying Kilkenny Tradfest.
The Kilkenny Tradfest event list includes:
Purdue University Marching Band from Indiana, USA perform at the Parade Plaza at 4.30pm on Friday March 15th. This should be an amazing event as the band has over 300 members. This is one of the great FREE Kilkenny Tradfest events.
On both Saturday and Sunday there will be Live Traditional Music at Kilkenny Castle Park from 12-4pm with Beoga, Electric Céilí, Téada and other performers. this is another one of the free Kilkenny Tradfest events.
The Kilkenny Tradfest Céilí Mór! 2 nights of traditional Céilí dancing with Tim Joe and Anne. The dancing begins in the Springhill Court Hotel on Saturday 16th of March at 9pm.
The family highlight of the Tradfest festival is the St Patrick's Day Parade which takes place in the city from 2pm on Saint Patrick's day (Sunday 17th March). The parade begins at St. John's Church and makes its way through the streets of Kilkenny city. This event is another FREE one and kids especially love to watch the bands and colourful floats as the pass by.
The headline Kilkenny TradFest Gig  – Martin Hayes, Dennis Cahill and Iarla Ó' Lionáird perform at The Set Theatre on Sunday 17th March (Saint Patrick's day) at 9pm.
The Annally Céilí Band perform in the Newpark Hotel on Saint Patrick's day (Sunday 17th) at 9pm.
Our self catering cottages in Kilkenny make a comfortable base for families or groups of friends who are performing or just enjoying the Kilkenny Tradfest events. So if you are looking for accommodation for Kilkenny Tradfest, get in touch with us to check availability and rates.