Croan Cottages, 2 & 3 June 2018
Join us for a unique culinary experience as Steven and Gill, of the UK's famed River Cottage, come to Croan Cottages, Kilkenny, Ireland

This is a 2 day course & all of your meals are included (including drinks).

This is an exclusive opportunity to cook with two of the key members of the River Cottage team in a beautiful part of Ireland.
Places on this course cost just €575 which includes your accommodation, all of your meals, course materials and some goodies to take away.
There are a limited number of non residential places also available. The cost for a non-residential place is €460.
Course Description
Join Steven, Gill and the Croan Cottages team of local cooks and artisans for a 2-day, residential cookery course with a difference.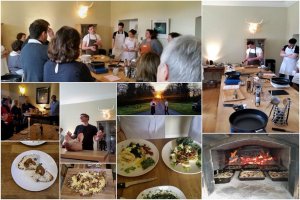 We'll cook together, learn together and eat & drink together as we gain a first hand experience of Steven and Gill's knowledge and culinary styles. We'll also enjoy a true farm to table experience, as we gather many of our fresh, delicious ingredients from the gardens and fields here at Croan.
You will stay in our holiday cottages and double, twin and single rooms are available, depending on your need.
Course Details

Date: 2 & 3 June 2018
Time: 10am to 5pm each day
Price: Just €575 per person

- Includes 2 Nights' Accommodation, Full Board (including drinks with dinner), all Teaching Sessions & some goodies to bring home.

A small number of non-residential places available - €460


Accommodation Type
Twin Room Sharing €575.00 EUR
Double Room p/p €575.00 EUR
Single Room €595.00 EUR
Non-residential €460.00 EUR
Saturday only, Non-residential €230.00 EUR
Sunday only, Non-residential €230.00 EUR

What others have said about our Courses

What participants on our previous 'Taste of River Cottage' courses have said:

"It was a fabulous weekend guys. You must be very proud! You were great hosts and it was a joy to be in your company."
"What you are doing in Croan Cottages is absolutely wonderful & your recognition and support of other local artisan suppliers is commendable."
"Steve & Gill were absolutely brilliant, very much at ease and their depth of knowledge and willingness to share it was what made it for me."
"Thank you so much for the wonderful weekend. I enjoyed it so much - the food, the location and the fun we had was beyond my expectation."

Gift Vouchers

Give the gift of 'an experience'.
Gift Vouchers are available for courses or holidays in any amount.
Read more.

Topics Covered on the Course
Steven & Gill will lead morning and afternoon sessions, covering topics including:
Curing & Smoking,
'Pig in a Day' techniques - delicious Pork & Bacon products,
Bread making in the wood-fired oven (and how to build one),
Fish Cookery,
Nose to Tail - the cheaper (and tastier) cuts,
Seasonal Salads,
and more...
During your stay your host, Francis, will also introduce you to life at Croan. Together you will meet the animals, do some Seasonal Foraging, take a look inside the bee hives.
For those interested in building their own Pizza Oven or Smoker, you will be able to see how those at Croan were built and ask us any questions that you might have.


"We all thought your course was great. Eating together and staying in the cottages with other participants made for a different and very congenial experience."
"Thank you very much for the fabulous weekend with the two charming guys from River Cottage."
"I learnt lots every day and hope to put it all in to practice in the next few weeks."
"You really put all your heart and soul into organising and running the weekend."
As the course is over 2 days there will be plenty of time to tailor the content to suit you. Make the most of your time to learn some 'Pig in a Day' tips from Steve, some Chef skills from Tim or some smallholding skills from Francis
We'll also have local producers stop by during the course to showcase some of their products including some very special local Beer!
Contact Details

Croan Cottages,
Dunnamaggin,
Co. Kilkenny

(Just 90 minutes from Dublin)

+353 (0)56 77 66 868
Steven Lamb






Steven Lamb has been at River Cottage since the very beginning and teaches several courses at the River Cottage Cookery School, specialising in Curing & Smoking. He is an award winning author, presenter and appears regularly in the TV series and online.

Steven also delivers the famous 'Pig in a Day' course at River Cottage. The 'Pig in a Day' course lets participants get to grips with the carcass of a whole pig, transforming it into a wide range of products and delicious pork recipes. At Croan, as we'll be in a small group, Steve will be able to cover the basic principles of butchering a pig and will help you learn how to make sausages, chorizo and salami. Steve's smoking skills will also help you learn how to make air-dried ham, brawn and bacon - all in the lovely surroundings of Croan Cottages.

"My role at River Cottage is varied and fun. It comes with some responsibilities; I teach, write, mess about in front of the camera and often find myself at serious gatherings around the world talking about what River Cottage stands for."

"I am really looking forward to returning to Ireland and staying at Croan Cottages again. This will be the first residential course that we have run in Ireland and we're all very excited about it."
Hugh Fearnley-Whittingstall on Steven:

Steven Lamb is an absolute linchpin of the whole River Cottage operation and has been for a decade. He and I go back to the early days, when River Cottage HQ was a scrubbed-out cow barn with a second-hand kitchen rammed into a shed next door. Steven's knowledge is as broad as it is deep and that is why he is in such high demand.
As well as teaching, Steven has hosted events and lived at River Cottage HQ as the resident smallholder. He was recently awarded the Highly Commended Food Book at the Fortnum & Mason Food and Drink Awards 2015 for the River Cottage Handbook on Curing & Smoking. He works closely with Gill Meller (Head Chef) and Hugh Fearnley-Whittingstall representing River Cottage both in the UK and abroad.
Gill Meller






Gill Meller has been part of the River Cottage team for almost ten years.

Working closely with Hugh Fearnley-Whittingstall, Gill has been a major part of all of the activities at River Cottage including sourcing the ethically-produced and sustainable food, creating the ever changing menus and developing the successful cookery school at Park farm.

He appears regularly on the series cooking alongside Hugh, contributes to the cookbooks and teaches at the River Cottage Cookery School.
Hugh Fearnley-Whittingstall on Gill:

Gill has cooked beside me, for me, and sometimes in competition with me, countless times over the last decade. His creativity, curiosity and sheer verve have infiltrated my own cooking and my thinking about food so that I barely know where his kitchen ends and mine begins. Coupled with that originality is a rocksolid ability and true mastery of his craft. He's a good butcher and a fine baker, as well as a great chef. He knows how to hone smart ideas into dependable recipes you can cook at home. In short, he's as good a friend as you could hope for in a kitchen.
2 Day Cookery Course with River Cottage's Steven Lamb & Gill Meller
Croan Cottages,Kilkenny, Ireland: 28 & 29 October 2017