This time of year really forces us to use some ingenuity when it comes to cooking with our own seasonal ingredients. All we have left in the gardens at the moment are Beetroot, Swiss Chard and Leeks. With the addition of a few store cupboard extras, here's a tasty vegetarian menu that we recently came up with.
Leek and Chard Soup
Chop up the green tops of about 10 baby leeks (keep the white part to roast, below) and the leaves of 10 stalks of chard (keep the stalks for a gratin, below). Cover with 1 litre of vegetable stock and simmer for 15 mins. Season well and blend. Tasty and uber-healthy.
Chard Gratin
Chop the chard stalks into 5 cm lengths and fry gently with 2 cloves of garlic and some thyme leaves for about 10 mins. until tender. Stir in 100ml of creme fraiche and top with a mixture of 30g. breadcrumbs and 30g Parmesan cheese. Pop under a hot grill until browned.
Roasted Leeks.
Toss the baby leeks in a little olive oil and season. Cover with foil and roast at 160 degrees for about 20 mins, until tender. Drizzle over some hummus, romesco sauce or basil oil.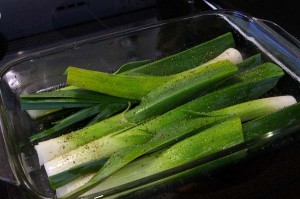 Lentils with Beetroot and Cheese
Simmer 250g of Puy lentils in light vegetable stock  for about 25 mins. until tender. Season well, drizzle  over some olive oil and 2 tbsp balsamic vinegar and some sliced roast beetroot and goats' cheese or cubed feta.
It's nice to be be able to offer some vegetables to guests who are staying in our holiday cottages, even at this time of the year. Sometimes, it's nice to be able to offer some delicious recipes too, to make that 'self catering' break a little easier:-)