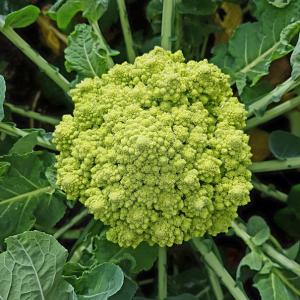 We had some Romanesco form perfect heads early this year in the greenhouse. One of them was just about to go over recently so it had to be used up. There also happened to be some Chicken Thighs in the fridge so an adapted Chicken and Broccoli Bake seemed the way to go.
This worked out really well!
Ingredients
4 Chicken Thighs (one per person)
Some Sausage – the dense Eastern European style or thin chorizo
Baby Potatoes
Leeks
Broccoli florets
Onion
Mushrooms
Garlic
Chili Flakes
Breadcrumbs
Milk
Chicken stock
1 tbsp cornflour
A little white wine to deglaze the pan
Par boil the spuds
Sprinkle the chicken thighs with salt and pepper and then cook in a little hot oil on a large skillet set over high heat. Add the pieces of chicken, skin side down, and cook them without moving them for about 4 minutes and develop a nice golden crust.
Flip the pieces of chicken and cook them for another 4 minutes.
In the oven dish, fry the Leek, onion, broccoli florets, mushrooms and garlic in a little oil.
Transfer the chicken from the skillet into the oven dish, add the milk and cook everything for about 5 minutes, then check the seasoning again.
Deglaze the skillet pan with the wine and add the liquor to oven dish.
Mix the chicken stock, chili flakes and cornflour together in a large measuring jug and add to the oven dish.
Sprinkle everything with the breadcrumbs.
Bake in the oven for 10 minutes, until the chicken and broccoli filling is bubbling and the breadcrumbs are golden.