IN THIS ISSUE
– A busy Spring
– Getting ready for summer
– Some Seasonal Recipes
– Animal news and                              new arrivals
Summer Holidays 2011
There is still some availability for summer holiday stays at Croan Cottages.
Visit our website to check availability and to book online!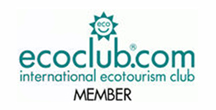 Croan Cottages in the Press 2011
Croan Cottages have been featured in:
'Trotter' – The Dutch travel guide.
"Ideally situated for exploring the region".
Croan Cottages Summer 2011
So much for April showers! This year we had the driest, sunniest, warmest April on record, a bonus for all the families who came here to celebrate Easter and for Kevin and Aisling who celebrated their wedding here in beautiful sunshine.
An unexpected bonus, the good weather meant that the wedding guests could spend most of the day celebrating out of doors, with garden games, boules and a croquet blitz that was taken very, very seriously. As demonstrated by bridesmaids Orla and Jenny, high heels and long dresses are no impediment to victory.
Congratulations to the happy couple and our best wishes for a long and happy life together!
Croan Cottages – A busy Spring with plenty of new arrivals!
A warm, bright April was also the perfect time of year to welcome our newborn lambs: two orphans came from a neighbouring farmer and our own ewe Eunice had twins a week later. All are thriving out in the fields, becoming more independent daily but watched closely by our ram, Nut, in case they stray too far.
In April we also welcomed a new peahen to our brood. As is our tradition here at Croan, the choice of name is delegated to visiting children and 'Emily' was christened by Cameron Townsend, visiting from Scotland. She's settling in well, gradually getting used to the other birds and animals. It's probably too much to expect that she'll nest this year, but we'll keep a close eye and her and keep you all posted.
Pierre, looking his best for new friend 'Emily'
| | |
| --- | --- |
| The mild Spring weather ensured a fantastic display from our daffodils and cherry blossom trees. The cherry blossoms, in particular, are a short-lived but welcome spectacle, signalling the end of the frosts and the arrival of Summer. The blossom on the fruit trees in the orchard was the most prolific we're ever seen (and with an incredible scent) so we're hoping it augurs well for an equally prolific crop of apples, pears, cherries and plums. | |
A windy Spring makes way for sunny June
May was a very blustery month – great for blowing the cobwebs off as we prepare for Summer. While we undertake some renovations in our own house, the cottages have all had a sprucing up, and are in great shape for the coming season.
We are hoping for some great summer weather as local lore has it that 'a wet and windy month of May fills the barns with corn and hay'!
The Walled Garden, all ready for planting.
Preparation for Summer
We've been busy preparing the gardens for the most productive time of year. The early jobs of soil preparation, spreading manure and rotovating are not the most exciting of tasks, but the effort pays off in both quality and quantity of produce later in the year.
| | |
| --- | --- |
| | Even the tedious job of clearing nettles can bring its own rewards – nettle beer is a delicious and incredibly easy drink to brew. It's difficult to accurately describe the taste (think of a herby lemonade – with alcohol) but it's delicious, refreshing and potent, so drink in moderation! |
Or for a delicious and seasonal alternative to kir or bellinis, make a rhubarb syrup with some stewed and strained rhubarb and sugar and top up with Prosecco. Our wedding party give their seal of approval to this one!
While the heavy work in the raised beds was going on, we started our seeds in the greenhouse: sunflowers, cucumbers, courgettes and salad leaves are all ready for planting outside, while tomatoes and vines will remain under glass. Carrots, potatoes, onions, broccoli, cabbages, beetroot, peas, beans and spinach were sown directly into the prepared beds and are have pushed their heads above ground.
The soft fruits are beginning to develop small berries and the most eagerly anticipated crop of all, the strawberries, are already being harvested!
Price Reductions for 2011

The Irish government has announced a reduction in VAT (sales tax) on tourism related goods and services from 13.5% to 9%. The price reduction comes into effect on the 1st of July.

Not only are we delighted to pass on the reduction to our guests, we've decided to double the saving, offering a discount of 9% on all bookings from July 1st, making Summer holidays more affordable than ever.
Be sure to visit our website at www.CroanCottages.com
to see other special offers during the year
Thanks for reading and we hope that you all have a great summer!
Niamh and Francis