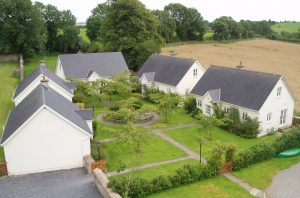 The advice from all of the medical experts at the moment is to self-isolate, to avoid becoming infected with the coronavirus and to avoid spreading it. This, simply put, means staying home.
But for many that is not so easy. If you are a healthcare worker or someone working in other essential services, you may want to isolate yourself from the people with whom you share a home.
If you suffer from an underlying illness, you will be understandably concerned, particularly if you live in a built up area.
Croan Cottages are 5 detached, fully fitted homes in a quiet rural location, just 3 minutes from the M9 motorway and just 15 minutes drive from Kilkenny city.
The cottages provide a perfect location for those who need or want to move away from home during the current crisis.
The cottages are self-contained and guests will not be disturbed during their stay. There is no need for physical interaction with us or with other guests.
The cottages are set on 10 acres of private gardens and paddocks which a varied collection of animals also call home.
There are 2000 acres of woodland next door with signposted trails and WIDE paths. Although the trails and wood are never terribly busy.
To discuss if Croan Cottages might suit you as you self isolate away from home, please get in touch.
Short and long term rentals available.